6 Foreign Languages That Can be Learned Easily by English Speakers
Globally approximately 40% of the population is monolingual. And, English is the most spoken language after Chinese. The reason behind is simple, English is an extremely useful language, which allows you to connect with the people across the world. Also, it's the world's 'lingua franca,' that means if you can communicate in English, then you can communicate to one-fifth of the population all over the world. This is the reason why the students who are adept at communicating in English don't want to learn any other language. But the experts providing assignment help have suggested that they should be taught at least one more language.
If you are an English speaker and are wondering which language would be easier for you to learn, then you are at the perfect destination. Read this blog till the end and get enlightened of the languages that are easiest to learn for the English speakers!
Esperanto
Unlike all other languages on this list, Esperanto didn't evolve naturally over time. It's an artificial language that was created in the 19th century to facilitate international communication. But another aim of the linguist who created Esperanto, "Dr. Ludwig L. Zamenhof," was to put forward a language that was easy for the learners.
Spanish
In the USA, approximately one-sixth of the population speaks Spanish. And, they have not learned the same by attending classes, they were just in touch with some Spanish speakers for long. However, you might stay behind in learning the grammatical rules as the grammar of this subject gets very complicated and detailed at higher levels. Also, there are a lot of verb endings to memorize.
German
German has been frantically borrowing words from English. Also, this language is particularly easy to learn than others. Germany has a plethora of educational institutes for the Engineers, the scholars who are looking forward to pursuing their degree from Germany should focus on learning this language.
Norwegian
This is yet another language that the English speakers should learn as Norwegian is arguably easier and one of the rare languages that can be learned by the English speakers. Becoming adept at Norwegian verb endings is hilariously easy. Also, the pronunciation might make you overwhelmed at first, but there are relatively few sounds in Norwegian. Moreover, with this rare language on you CV, you will have a better chance to stand out from the rest.
Romanian
Romanian, the closest living language to Latin that you can learn. If you're interested in reading the native Eastern Europe's book, then you should prefer this language as it's much easier for English speakers than other languages of the Eastern Europe, such as, Hungarian or Czech. The language, Romanian, is written phonetically, and thus most of the sounds in it appear in English as well.
Malay
Malay is not precisely an easy language to learn, but it is a lot simpler than most of the Asian languages. It uses a Latin script and makes the reading easier to begin with. Regarding grammar, many of the features are different from other languages such as it does not have grammatical gender, inflection of verbs based on a person, number or tense, and grammatical plural as well.
These were a few languages that are easier to learn for the English speaking scholars.
Also Read: Tips to Flourish Your Creative Fluids
In case you are burdened because of plenty of academic documents, then connect with us at the drop of a hat and the rest will be taken care of by our highly efficient team. We, at Global Assignment Help, have the most skilled academic experts who have vast years of experience.Along with the amazing writing services, we also offer several other benefits to our new and returning clients. So, place your order now and avail them.
We hope to hear from you soon!
Also, take help from these blogs
5 Factors a Student Should Consider Before Choosing a College
10 Tips to Manage Expenses When Studying Abroad
Things to Keep in Mind If You're Planning to be an Entrepreneur
5 Habits That Would Enhance Your Creative Thinking Skills
Lowest price
USD 7.13
Get A+ Within Your Budget!
24/7 Customer Support
100% Customer Satisfaction
No Privacy Infringement
Quick Services
Subject Experts
Innovative Documents
FREE Tools
To Make Your Work Original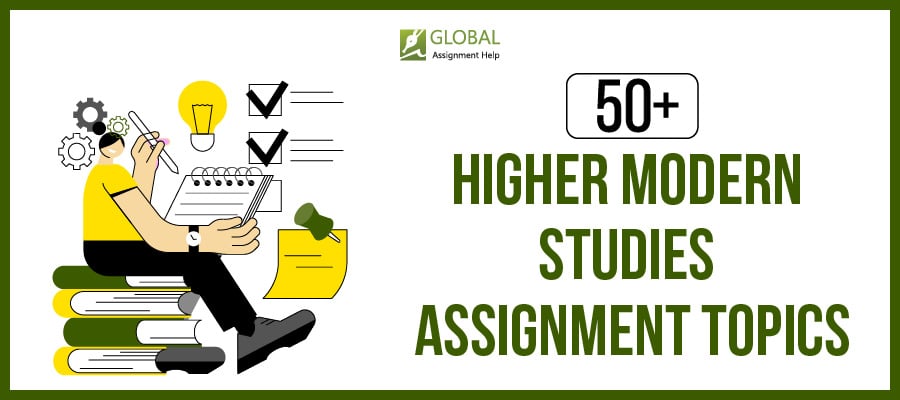 50+ Higher Modern Studies Assignment Topics to Ace Your Paper!
26-09-2023
119
13 minutes