Looking for the Top Tips to Write a College Essay in 2023? Learn Now!
Most universities and colleges usually have specific criteria to select the right candidate for their programs. Some essential criteria include high school grades, ACT and SAT scores, extracurricular activities, and more. However, some nowadays focus on what students have to say in their college application essays. This is why scholars have become extra cautious and always look for tips to write a college essay on the internet. 
Writing a good college application essay is essential if you want to get selected. But to write an interesting college essay, first, you need to understand what is a college essay and what is the purpose of writing this essay. Without knowing the aim of writing it, you would not be able to understand its importance and not put as much effort as it needs. So, read further to get an overview of a college essay.
What Is a College Essay? An Overview!
The college essay is an admission essay that allows you to share more about your personality with the admissions committee. Beyond your academic grades, test results, and extracurricular activities, the college essay offers a new viewpoint on you. Telling a unique, personal, and focused story will make you stand out from other applicants with comparable academic grades.
The purpose of writing a college essay is that it can showcase your writing skills and reveal your ability to express thoughts and ideas to the admissions officers. Some colleges ask for more than one essay at the time of applying. But it is not necessary that all of them require you to submit one with your application. Therefore, you should verify all the school's admissions requirements before applying. As it will help you get the drill correctly. 
Moreover, you can always seek essay help online if you are in a dilemma about how to write a college essay. There are plenty of services available online that can help you write a great essay. But if you do not want outside help and want to give your essay a personal touch, read the below-mentioned tips.
10+ Great Tips for Writing a College Essay to Hook Your Reader 
Are you dreading writing your college essay? Then, don't worry! You're not alone. It is, without a doubt, a daunting task to write your essay for your college application. This fear of writing the perfect application can make anybody think, "How can I write my essay?". As this is your chance to show universities who you really are, so it's perfectly understandable if you feel anxious about writing it. But do not let the pressure disturb your peace of mind because we have a solution.
We will share a few fantastic tips to write college essay that can help you get into the university of your choice. Continue to read for helpful information.
Grab the Reader's Attention 

Always start your essay with a strong opening that instantly catches the reader's interest. It can be anything from a good quote to a curious question, a bold statement, or a descriptive scene. But if you struggle to write the introduction, it is best to use an essay typer tool to get the perfect start.
Focus on Intellectual Themes

Rather than discussing facts and figures, select a topic that sheds light on your personality. The admission committee wants to learn about the impact the story or essay made on you or your life. 
Write Like You're Having a Conversation

The best thing you can do while writing a college essay is to make it interactive. Write like you are telling a story in person. Whenever you feel that certain information can be added to the essay. Take out your phone and record it, and later when you sit to write the draft, frame your words accordingly. 
Be Creative with Your Grammar

 What makes any writing interesting? When you play with words. Make use of grammar knowledge and have fun. Let your words dance, jump, sing or fall. Love them; let them grow freely like wildflowers. Do not panic if you don't know how to play with words, as there are many assignment help experts out there who are ready to assist you. 
Reveal the Unexpected

Experiment with your write-up and give a twist to it if it connects with the theme of your essay. This move will give the reader a strong impression of your personality. For example, readers sometimes connect with you more when you disclose your vulnerability than your strength.
Share, Reflect, & Connect

Are you thinking about what it means? Well, tell a story that shares your experience, reflects on the learning and skills, and connects with the present goal of your life. This is a positive approach to leaving a good impression on the admission committee. However, if you still have doubts, you can always seek help from an essay writing service. 
Read it Out Loud

When you read your essay out loud, you get to focus on the minor invisible mistakes while proofreading the document. It not only helps you in finding out the mistakes but also understand the tone of the essay. 
Edit & Proofread Thoroughly

Proofreading your document is one of the essential tips to write college essay as it can help you dive deep and check the write-up to search for all the errors. It is better to proofread at least twice to look for missed errors. 
Ask Someone to Read Your Essay

It is always best to ask for another person's opinions as he/she can observe all the loopholes in your write-up. Also, taking someone's advice can sometimes bring new ideas and perspectives to the table. 
Give Yourself a Break

Everyone knows that writing a college essay is challenging. The worry of perfecting an essay can eat you up and make you restless. Therefore, you need to understand that stressing over something will only make things worse and not solve them. So it is best to give yourself when things become overwhelming. Students often feel anxious when they write such lengthy tasks as college essays, dissertations, case studies, etc. So, in this situation, they should take thesis help or essay help from professionals and get free from the burden.
Wrap it Up with a Kicker

A kicker, in journalism, is the concluding sentence or paragraph that ties the entire content together. It creates a lasting impact of your skillfully woven work on the reader and leaves them satisfied and impressed. So be precise and clear, and wrap it up with vivid examples that expertly tell your point.
Now pick up your pen and start writing your draft with the help of the best tips to write college essay to get selected for your favorite university. But before you start creating your draft, there are several pointers you should avoid when writing a college application essay. Read further to know.
8 Things You Should Avoid While Writing a College Essay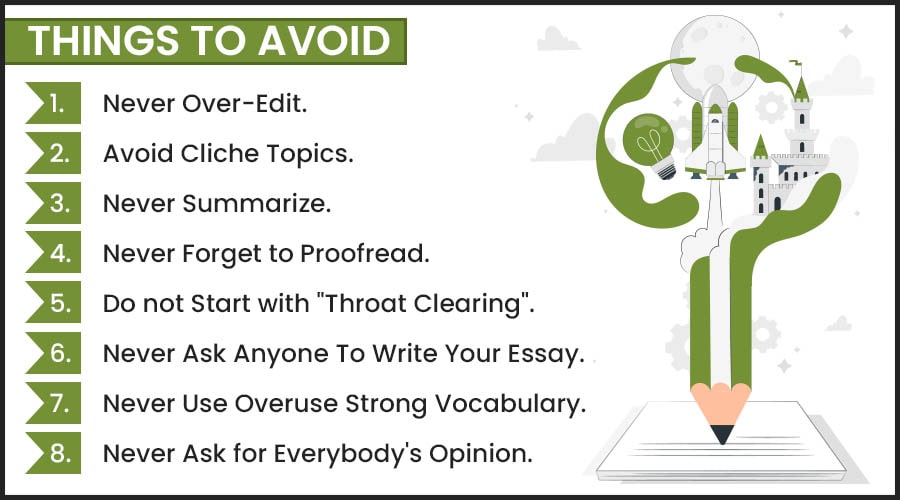 For writing a college essay, you need to take care of the following points as they are essential to remember while working:
Never Over-Edit

Over-editing can take away the essence of your essay. Please, don't do it.
Avoid Cliche Topics

Do not write about a common topic, as it can make the reader disinterested.
Do Not Summarize

It is unnecessary to summarise your essay as it will make things repetitive. 
Never Forget to Proofread

Do not forget to proofread your document intentionally or unintentionally.
Do not Start with "Throat Clearing"

Do not introduce or conclude your essay with long and irrelevant sentences.
Do Not Ask Anyone To Write Your Essay

It is better to write your essay independently, as getting it done by someone else can lose the spark in your story.
Do Not Use Overuse Strong Vocabulary

Using complex language and strong vocabulary can create a wrong impression on the reader, making it difficult to understand.
Never Ask for Everybody's Opinion

Do not ask for suggestions from too many people, as it can confuse you. Instead, choose only two good sources to get feedback from.
How Seeking Experts' Help Can Make Your Essay Standout?
So hope we have cleared all your doubts about how to write a college essay. It is crucial for a person to understand the importance of do's and don'ts and types of essays. But if you still get stuck or do not feel confident about writing an essay. You can always seek our professional help. There are several reasons why hiring our expert can make your essay stand out.
Paper Types and Themes

You can choose from various essay subjects to meet your needs.
Papers Are Written From Scratch 

Our professionals offer complete authenticity. In addition, they provide free plagiarism reports showing that your essay is original and unique.
Huge Team of Qualified Writers

We have the best experts to help you with your essay. Each essay helper has a rating, and you can check the expert's background before hiring them.
Years of Experience

Our specialists are skilled at creating flawless essays and have many satisfied consumers.
Fastest Service Available

Our subject matter experts can assist you in writing your essay quickly. They will adhere to the deadlines given by you.
Our essay writing help experts have a lot more to offer you other than tips of writing college essay. Check out our website for assistance with almost any type of academic writing. 
Lowest price
USD 7.13
Get A+ Within Your Budget!
24/7 Customer Support
100% Customer Satisfaction
No Privacy Infringement
Quick Services
Subject Experts
Innovative Documents
FREE Tools
To Make Your Work Original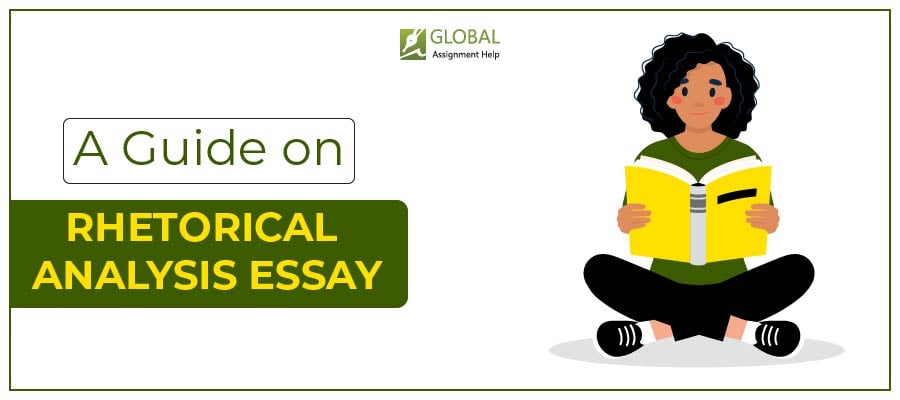 Your 2023 Guide on How to Write a Rhetorical Analysis Essay
14-09-2023
357
20 minutes