How to Earn Money As a Blogger in 2018?
Nobody, be it student or an adult wants to be dependent on their family for money. It's the strength of these self-motivated independent hard workers that brought out artistic career options for people to pursue. Writing is also a form of art where whatever you're thinking, instead of drawing or singing, you just write it. No one, not even censors, nothing can stop you from writing what you want unless you're working in a corporate firm for money, and you have to comprehend your know-it-all bosses' thought process. However, writing is an art, and you should embrace it as one. Don't listen to the world because according to the people musician is a "job" too. They seem to be losing their ground, but you will not. Go through the simple points; you can remember to run your own blog site without any problem. Here they are:
1. Write content that people read
Do not write about the constituents found in the soil samples brought from Mars, because honestly, it doesn't even support growing weed, probably. On a second thought, write about if it's fertile enough. The point is to create content in a way that people can feel connected to it when they read it. There are a lot of other methods to earn money which we will discuss soon enough. What do you think will work out best for you? Classic content or business techniques. Actually both.
2. Go for "Pay Per Click"
Once you develop an audience, you can go for pay per click advertisements to show on your website. All you got to do is go to Google Adsense and provide them a section on your page reserved for displaying ads. The best part is you don't have to meet the developers to get your deal sorted. Google will randomly keep changing ads, and you'll keep having yourself paid some amount per click.
There's another plan out in the market which goes by the name, "Cost per 1000 clicks" if you are tired of small payments. Google will raise the amount too, but that's subjective to the popularity of your website.
3. Sell your products
We know that pay-per-click is not a game for the long-term players. If you're one of them or even want to be one of them, start creating paid content. But remember, the public wants complete entertainment for money, so either provide it or see your blog lose its popularity. But that's not a problem as long as you are creating good content, and people somehow agree and stand with your ideology as if it's their own. Once you have that belief, you won't have a problem selling your books, e-zines, videos, and more. Let's understand an example of a content creator. Ozzy, a world events reviewer, and owner of popular youtube channel "Ozzy Man Reviews," has at least a million people following his space. Quite recently, and after he became famous, he released a book "Ozzy Man's Mad World," and people did buy it. Some for the glossary of Australian slang, others to actually go through the content he creates, the point is that they bought it.
There's a lot you can do as a blogger. Try to remember that people get bored of stuff easier than we think. If you keep repeating the same material, it'll become monotonous for both, you and the public. Try to give your own angle to a situation or information. One thing to keep in mind is shape your write-ups as natural as possible. Let people have an essence of your personality, and writing is your only medium.
There are quite a few number of times when you're stuck in writing something new, and to complete it is your priority. If the thought of pending untouched assignment is not letting you sleep, pass it to us. Visit Global Assignment Help and our team will provide best assignment writing service UK will ever find. We write cent-percent original write-ups, and their prices are kept low so that everyone can afford them.
You may also like to read:
Lowest price
USD 7.13
Get A+ Within Your Budget!
24/7 Customer Support
100% Customer Satisfaction
No Privacy Infringement
Quick Services
Subject Experts
Innovative Documents
FREE Tools
To Make Your Work Original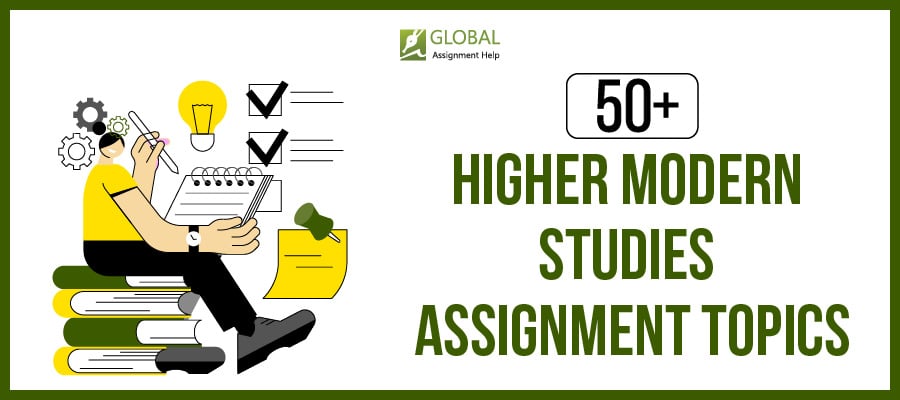 50+ Higher Modern Studies Assignment Topics to Ace Your Paper!
26-09-2023
161
13 minutes