New Developments in the Field of Artificial Intelligence
Soon enough, the day will come when machines steal every single job mankind has. The idea has already been put on the table, and Artificial Intelligence is something programmers have created to make our work easier. Nowadays, a lot of fields of work are using robots embed with programs to do a specific thing. AI's contribution to such machines is the capability to understanding the commands and respond to them. Take Siri for example, a virtual assistant for commercial Apple products; apart from just saying "yes" or "no", it has got a quite small arsenal of jokes too. And, if you want to witness Artificial Intelligence's progress in terms of development, Tesla Motors might be a good example for you. Go ahead, YouTube it.
Now that you know how brilliant Tesla are at putting innovation to work. Along with just cruise control your car can now switch lanes and prevent accidents, is just a dream from another world come true. Come, let's find out the new developments we have made in the field of AI:
1. Software to get under your robots skin
Virtual reality controllers will pave a way for us to see through our robot's eyes and give it commands using a software. Graduates of Brown University have created a computer program, using which you can use your VR controller as a means to control a robot. David Whitney, co-leader of the project has demonstrated its working and proved that the future is bright for robots in commercial world too. Results show that robots don't even need to be around as they can be controlled miles away from their location.
2. Sensibility to self assessment
While you look at it as something for you, it's not. A recent development program by scholars at University of California, Berkeley has brought a new kind of robot in the market. This one is a special, as it can assess its actions for their results in the future. How? The robot is programmed to understand the consequences on the basis of displacement of object in pixels. It has a camera on the front which helps deciphering the exact position of things. Here's an example how it works, you train it to know the consequences of each action. Suppose, your robot presses a button, you must show it what the action related to it. Next thing you know is your machine will soon find its way to switch on/ off your mobile phone and TV too.
3. Recognise through dialogues
Wasn't it annoying when Hollywood had glorified AI almost as a non-existent human, capable of doing anything, while we were at our homes working with "What is Coffee" robots? A group of researchers at Osaka University, Japan has come out with a simple yet effective technology. Once it goes public, and you won't ever feel that your robot is breaking the conversation. Chats between you and your robots will be more like,
You: Search me the best Tacos.
AI: Correct me if that's not Mexican.
You: You are correct indeed, you robot
AI: (shows you the result)
People question us to know if robots are good or bad? Well, they're not human, so it's hard to say. Programs that machines strictly adhere comprise a lot of logical reasoning, but all that we do cannot be classified as logical. Emotions play a huge part in our lives before we make any decisions. Hence, yes emotionless and lifeless species are the future, and we'll successfully achieve that someday, one way or the other.
Also Read: Facts About Artificial Intelligence
However, if you are a programmer and currently working on one of such projects dedicated to the development of AI, and can't complete your homework, visit Global Assignment Help. Our team of professional programming assignment help providers will complete your write-ups and deliver them to you before the deadline strikes.
Lowest price
USD 7.13
Get A+ Within Your Budget!
24/7 Customer Support
100% Customer Satisfaction
No Privacy Infringement
Quick Services
Subject Experts
Innovative Documents
FREE Tools
To Make Your Work Original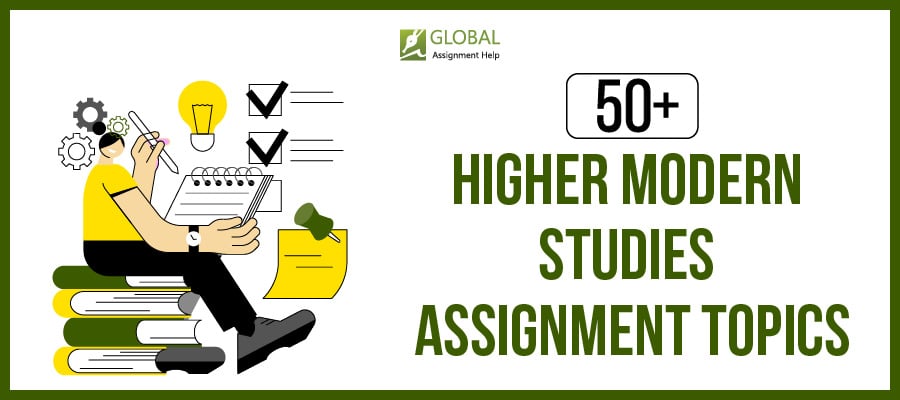 50+ Higher Modern Studies Assignment Topics to Ace Your Paper!
26-09-2023
139
13 minutes