Techniques Derived from Creative Writing to Improve Your Assignments
Let's face the fact that students submit the most boring assignments for evaluation and the university professors get quite irritated after reading them. The experts offering the assignment help to the scholars enrolled in various universities have conveyed that the uninteresting and dull assignment writing work not only makes the university professor feel drowsy, but the influence of such documents can be seen in the coursework submitted by the students that follows the boring one.
You should understand that academic write-ups should not be boring! If you too find difficulty in composing an assignment that is attractive as well as capable enough to score the topmost grades, then read this blog in full to get enlightened of the ways that will help you in the same.
Let's get started!
Cultivate interest in yourself
There is no way to make a write-up interesting if you, yourself feel that the topic is incredibly dull. On the contrary, if you are interested in learning more about the topic assigned, it will be efficiently depicted in your assignment.
Follow a specific structure
As you are aware of the topic that you need to work on, prepare a rough outline of the structure and flow that you want to follow while writing. Yes, you can make necessary changes later, but having a structure in mind will definitely make the flow accurate which eventually helps in getting the attention of the reader without making him/her feel bored.
Borrow some fascinating facts
The library of your university is possibly stuffed with the books and scholarly articles from where you can gather the relevant information. But the same sources are used by every student in your university, isn't it? Therefore, there are fair chances that your professor feels bored reading the same points over and over again. To avoid such circumstances, research thoroughly and collect some unique facts and figures related to the topic assigned to you.
Thesaurus is not the best companion
It is not hidden that scholars mostly consider the suggestions given on thesaurus, but they forget the fact that this website only gives you the words and not the context in which the use of those words is appropriate. And, you are well aware of the ill-effects of using the inappropriate words. Therefore, it is recommended to check the usage of a word before adding it to your document.
Work on opening and closing paragraphs
Commonly known as 'introduction' and 'conclusion', these two are the most important parts in your academic write-ups. You need to work on them and make them the most attractive of all. Doing so will leave your reader feel satisfied by the arguments you've presented.
Avoid repetitions
If you've mentioned some points earlier, then do not make a mistake of repeating them again in your document. You may think that the professor would probably forget it, but (s)he is possibly doing the same thing for years and fooling him/her is not as easy as this.
Check for errors
No one likes to read an assignment that is full of grammatical and factual errors. For this, take a break after completing your document and return to proofread it with a fresh mind.
These were a few hacks that would probably help you earn the grades that you have always dreamt of.
In case you encounter academic writing issues, then you can connect with us as soon as possible. We, at Global Assignment Help, have the most skilled team which tirelessly works with the motive to assist the college-goers in completing their assignments, research paper, coursework, homework, etc.
By placing your order right away, you can take the advantage of our amazing discount offers and freebies.
Lowest price
USD 7.13
Get A+ Within Your Budget!
24/7 Customer Support
100% Customer Satisfaction
No Privacy Infringement
Quick Services
Subject Experts
Innovative Documents
FREE Tools
To Make Your Work Original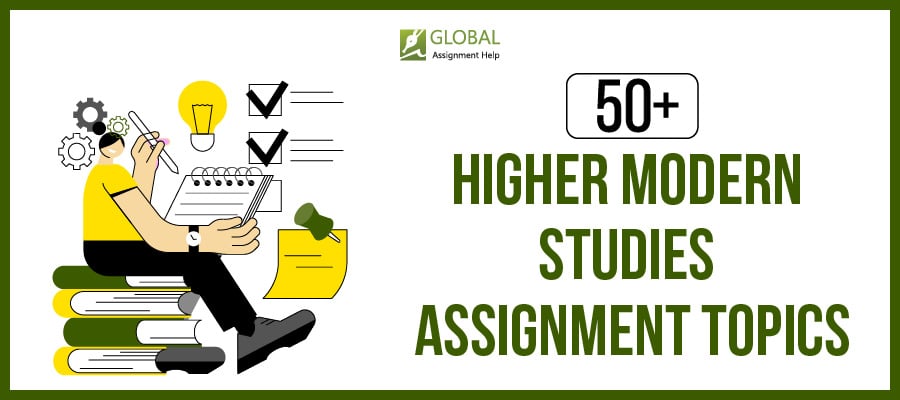 50+ Higher Modern Studies Assignment Topics to Ace Your Paper!