10 Most Commonly Confused Words of English
Have you ever been confused about the meanings of the words that sound similar? These are called homophones. Well, there are many such words in the English language which are confused by most of the students. The experts providing online assignment help to the scholars have listed down some of these so that you can understand the difference between these.
Here is the list of the top ten words that are confused the most:
Accept and Expect
Accept is used to show agreement or to receive or do something whereas the word expect is used for something that is excluded from other things.
For example: I was asked to accept a gift from everyone except the lady in black
Complement and Compliment
These two words are mistaken even by the experts. The word complement is used to refer an addition that might improve something whereas the compliment is the statement or remark anyone uses when (s)he admires something. For instance, the furniture complements my area; everyone complimented me on it.
Cue and Queue
Although, the word cue is not so popular these days, but is used in some or the other documents. The word cue is used to show a signal for action and the word queue refers to the line of the people or vehicles. Like, you can make a queue not cue.
Desert and Dessert
This is another pair of words in which students get confused a lot. Desert refers to a waterless and empty area away from all kinds of vegetation, but the dessert is used to refer the sweets or ice cream that you eat after a meal. For instance, do not expect dessert in the desert.
Dual and Duel
The word dual is used to describe something that has two parts whereas duel is used to describe a fight between two people. For example, the dual doors had duel guards.
Advice and Advise
The word advice is a suggestion, but advise means to order or to impose something on anyone. For instance, you are adviced to take breaks but advised not to copy from others.
Loose and Lose
This is the most common error noticed in a student's academic document. The word loose means that does not fit properly and lose is something that you are unable to find. For example, you lose confidence if you wear loose clothes that look shabby.
Principle and Principal
The principle refers to a rule or a fundamental belief whereas principal is head of any educational institution. If used in a sentence, it will be like, our principal briefed us about the principles of the school.
Stationary and Stationery
The words stationery is used to refer the writing materials, and stationary is something that is not moving, but most of the students use them vice-versa and create confusions like never before
These are the most confused words that might become the reason of a disaster in your academic document. Hope you are well-aware of them now.
In case your academic documents are facing rejections time and again because of the errors, then instead of procrastinating contact our academic experts right away. They are adept at providing services like thesis help, dissertation writing. and many more that assure you of standard quality documents that are error-free.
Apart from the supreme quality services at affordable rates we also offer some of the other guarantees as well such as:
100% plagiarism-free
Affordable price rates
Cent percent authentic documents
User-friendly app
Round-the-clock active customer care support staff, and many more.
If you are still confused about hiring us, then contact our customer care executive right away and eliminate all your doubts. Moreover, by placing your order right now, you can avail the best discounts and deals!
You may also like to read the following blogs:
Lowest price
USD 7.13
Get A+ Within Your Budget!
24/7 Customer Support
100% Customer Satisfaction
No Privacy Infringement
Quick Services
Subject Experts
Innovative Documents
FREE Tools
To Make Your Work Original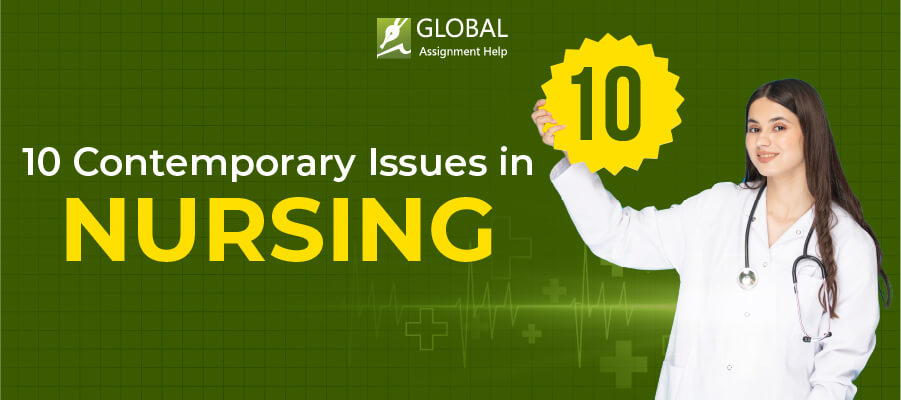 10 Contemporary Issues in Nursing Practise and Study
01-09-2023
295
14 minutes