Best way to complete the Assignment: Motivate Yourself
Having gone through the pressure that comes from various sources, one should know which ladder to pick and what steps to omit. Completing the assignment, you should have a strategy in mind. The best way to complete the assignment is to motivate yourself towards the assignment. Rather than depending for outsourced motivation from seniors and professors, be your own tutor. There is no motivation in comparison to the one which comes from your own side. Here are some effective way to complete your assignment by being your own motivator:
Keep Calm: When there is no way out than doing the assignment for grades, then stay calm and make a plan. Plan out everything of how and when will you execute assignment writing. Do not rush due to the tension because that may result in zero output and you feel d-motivated at the end. To maintain the enthusiasm which inspired you at the beginning, plan everything to avoid hassle in work. Take breaks of fixed interval between the work and spend some leisure time that will make you happy. This will build in you a enthusiast to do work.
Take Hurdles as a Challenge: While preparing the outline and writing assignment, you will face a lot of challenges. Sometime you will not be able to bring the right information or you will stuck in middle and has no way out. You may be get busy with something else which is a part of your social duties. Do not loose hope and feel restricted, take such hurdles as a challenge to move ahead. You can divide the time for everything which is important for you and work efficiently in that respect.
Stay Away from Negativity : Do not let anyone pull your aim towards wrong. Be determined of what you have to do and how you have to achieve everything. You must be surrounded by the friends and family members, who speak negative but to stay away from any negativity is the only way out. Do not engage yourself with someone who instead of encouraging, leaves you in a pity situation. Choose the right people who can speak good and always encourages for your growth and development.
Time Management: One of the most crucial part of assignment writing is time management. While collecting information and making a effective research, one should maintain a time pace. You should not invest too much time for something which is not so important from the professor's point of view. Distribute time slots among each segment that you have to look after. Managing time according to steps is the best way you feel confident about your work.
Choose Wisely: After you have understood on how to move ahead with assignment. The next step is to make a wise selection of topics and strategies to implement. If you have a good moral approach but a wrong selection of topic, it is meaningless. Make sure your mental approach fits well to the aim of writing. For framing a good report, always take care of what the professor is looking for and how can you optimize even if you have selected a simple topic. Such smart approach can help to build motivation for yourself and feel boosted.
Do not miss out the above points while implementing your assignment writing. The points may prove to be beneficial when you have less time or feeling stressed for work. Follow the only mantra to move ahead and motivate yourself at each step.
Global Assignment Help can make your assignment do wonders but keep in touch to update yourself with effective tips like these.
Lowest price
USD 7.13
Get A+ Within Your Budget!
24/7 Customer Support
100% Customer Satisfaction
No Privacy Infringement
Quick Services
Subject Experts
Innovative Documents
FREE Tools
To Make Your Work Original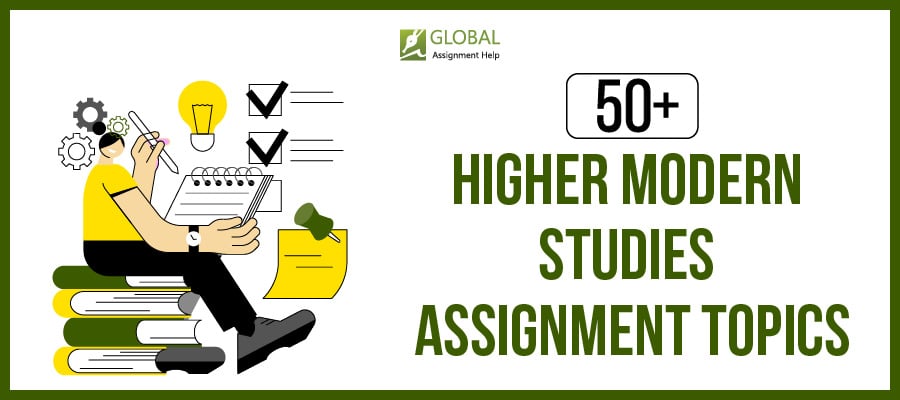 50+ Higher Modern Studies Assignment Topics to Ace Your Paper!
26-09-2023
127
13 minutes