10 Best Mathematics Software to Ease Your Learning
Table Of Contents
Remember the days when you have to approach the maths teacher for all types of maths problems. This was not easy for all the students to get help from the teacher especially after school or college hours. Many students used to spend their precious time solving difficult questions and still could not get the answer. Since mathematics software has come into the market, students have started feeling relaxed. There is a number of maths software available to make the problems easy for students.
If you are not aware of what is this software, then read the below piece of information.
What Is Mathematics Software?
It is a type of software through which you can solve numeric data, analyze the geometric data, model, and symbolize. Mathematics software are used for educational purpose by a large number of students.
As time passed, many softwares have come into the market. Some are paid whereas some are free download software. This blog lets you know about both types of software, because some have advanced features especially paid ones.
So, go through the below-given section and know the list of software.
Students also like to read: How to Resolve Critical Problems in Maths Assignment Like an Expert?
What Are the Best Mathematics Software?
Walfram Mathematica: It is the best software for college-level students. Mathematica has been transforming the way to study maths for more than two decades. It is best for a subject like calculus. It is looking forward to transforming K-12 Math.
Microsoft Mathematics: Many assignment writing services providers also use this software because this is one of the reliable softwares. It is offered by Microsoft to help students with complex questions.
EdAlive: It has amazing features through which students can learn with fun. If you purchase this software, then you will have 30 days money-back guarantee. It can make maths easy to understand for you.
Math Editor: If you are stuck with equations and can't find the solution, then this one software can help. You can create mathematical equations with Greek symbols, alpha, beta, square root, and many others using this software.
Universal Algebra Equation Solver: Many students struggle with algebra problems. You can get step-by-step guidance on difficult algebraic equations using this software. This mathematics software is suitable for school-level and first-year students.
Cadabra: You can solve complex algebraic problems using this software. It has a wide range of features, so you can solve problems like tensor polynomial simplification and tensor computer algebra. It was originally developed to solve quantum field theory.
Maxima: This open-source software is made by Massachusetts university. It specializes in symbolic operations also helps you with integers and rational numbers.
Euler Math ToolBox: Many students are weak to solve simple problems like multiplication, division, addition, and subtraction. If you are not well-versed these terms, then this is the best tool for you. According to maths assignment writing services this software is one of the best tools, if you want to make your basics strong.
Math Solver: You can get amazing assistance on the tough maths problems using this software. You can also draw graphs for the solution and present the graphical presentation in your academic paper.
Math Mechanixs: If you are into advanced mathematics, then this mathematics software can prove to be a savior. If you are writing a college-level assignment on maths, then use this software to understand questions and find exact solutions.
So, these are the top 10 mathematics software for students that can help solve the complex problems of math subject. But have you ever thought that you will learn mathematics with the help of software? Maybe not.
Today many students are downloading these softwares and solving difficult problems.
Let's know why they are becoming popular among students and teachers in the below write-up.
Students also like to read: 5+ Hardest Math Subjects [Topics & Expert Services]
Significance of Mathematics Software in Today's Time
Present time is hectic for students, so they can't spend long hours solving complex problems.
Maths assignment help providers believe that students are focusing on games and sports more;thus,they don't get time for solving the maths problems.
Maths is a subject where you have to deal with complex problems and this is not easy for several students.
Students are becoming technology-friendly, thus mathematics software fascinates them.
User interface of the software makes it easy for students to understand the problems easily.
Accessibility of the software is helpful for students who can't take maths tuition and go to the concerned teacher to understand problems.
So, these are the present time significance of the mathematics software.
You can learn the subject deeper and better with the help of the software. You can make use of free download software anytime; all you need is an internet connection on your computer.
The major problem related to solving the maths questions appears in front students, when they are given assignments. For many, maths assignment writing is not easy, but why? Let's find this out in the below section.
Students also like to read: Five Quality Tricks To Improve Your Memory
Why Is Maths Assignment Writing Not Easy? (5 Problems)
Lack of Subject Knowledge: This happens with many students when they don't focus in the class and avoid revising class notes. Without subject knowledge, this is quite difficult to write comprehensively.
Poor Numeric Skills: If you have poor numeric skills, then you can't solve the basic or even easy questions. Lack of this skill stops you from presenting the correct solution in the assignment.
Bad Writing Skills: Many students feel unable to put their thoughts into words which leads to poor marks. If you don't have a flair for writing, then you can seek math assignment help from professionals.
Can't Understand Complex Equations: You can be given an assignment on any of the topics, which can consist of many difficult questions. If you can't solve them, you can't finish your maths assignment.
Don't Analyse the Problem: Many students just start to solve the question of the assignment without even analyzing it. This one also does not let the students find a proper solution.
If you are also facing the above-mentioned problems and can't write the assignment, then do not feel bad. We are the best writing help providers who can help you.
Let's know why we are the best.
How Can We Help You with Maths Assignment Writing?
Global Assignment Help is one of the renowned websites that has been offering the best assignment writing services to students for over a decade. It has the experts of maths subject who write the assignments for students. So, if you are planning to order your paper from here, you can enjoy the offers and discounts.
Have a look at some of the advantages you will get if you order from us.
You can get plagiarism-free papers.
Well-Structured are offered by experts.
Papers have to go through strict proofreading process.
You can ask for changes as we offer customized papers.
Also Check: Clinical Reasoning Cycle
If you are facing difficulties while solving maths problems, then mathematics software can resolve all your problems. You can understand the equations properly and find a proper solution using these softwares and write the answers in the assignment. If you face any problem while writing, then Global Assignment Help is here. You can contact us at any time.
Lowest price
USD 7.13
Get A+ Within Your Budget!
24/7 Customer Support
100% Customer Satisfaction
No Privacy Infringement
Quick Services
Subject Experts
Innovative Documents
FREE Tools
To Make Your Work Original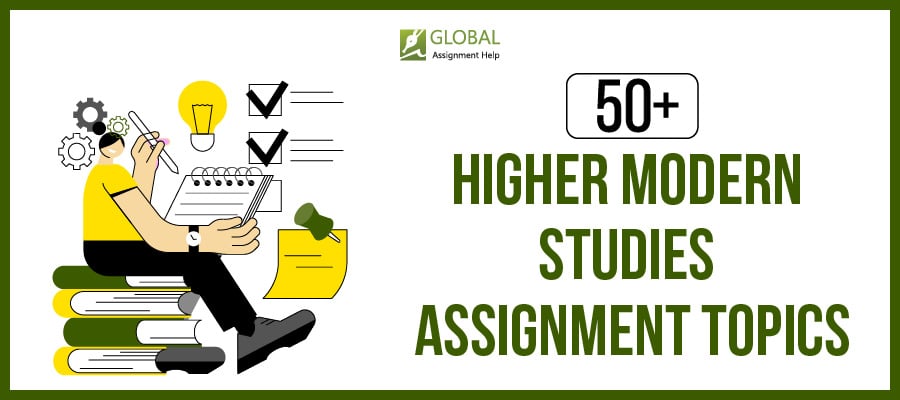 50+ Higher Modern Studies Assignment Topics to Ace Your Paper!