How to be More Productive in Less Amount of Time?
There are certain times when we all feel stuck and lack time to complete the things that are on the highest priority. However, a little organisation can help you to be more productive and provide you with the best results. All you need to do is focus on the right things, and you will surely get ahead in the race. In this blog, we have discussed some of the essential ways in which you can do less and achieve more.
Read the points given below and learn about how you can be more productive and do your work with more efficiency in less amount of time. Go through the points for self-help:
1. Avoid distractions
The first and foremost thing that you need to do is cut yourself off from all kinds of distractions such as mobile phones, social media or unnecessary talks if you want to get the work done within the set time. Just close down everything for the time being and focus on your work rather than getting swayed by distractions.
2. Make out a check list
Make a quick to-do list of the things that you need to get done and make sure you complete everything as per the order in the list. This involves prioritising what needs to be done first and doing things at the faster pace with good productivity. Apart from that, you can even make sure that you do all the things in the perfect order. Once completed, tick off the things so as to be assured.
3. Avoid delaying of the work
You should make sure that you do not delay in completing what has been prescribed to you for the day and avoid procrastination as much as possible. It is imperative for you to take a short break but you should get back to work quickly and that too without putting pressure on your mind as this would reduce your productivity levels eventually.
4. Consider those things that are way more important
Complete the things that are of the highest priority first as they might require some extra time to be completed and leave the less important things for the last as in this way you would be able to do more in less amount of time. So, go ahead and get your priorities straight.
These were some of the ways in which you can complete your work with full productivity in a short amount of time. Keep these tips in mind, and you would surely be able to finish the work with full efficiency. Stay focused and keep moving ahead!
Global Assignment Help is one of the leading online assignment help service providers that aims to offer the best possible writing services to the students enrolled at various academic levels. Since our inception, we have helped several clients to ace in their academic results and secure exceptional grades. So, if you are worried about your grades, then you can take our services for excellent results. All the best!
You may also like to read the following blogs:
Lowest price
USD 7.13
Get A+ Within Your Budget!
24/7 Customer Support
100% Customer Satisfaction
No Privacy Infringement
Quick Services
Subject Experts
Innovative Documents
FREE Tools
To Make Your Work Original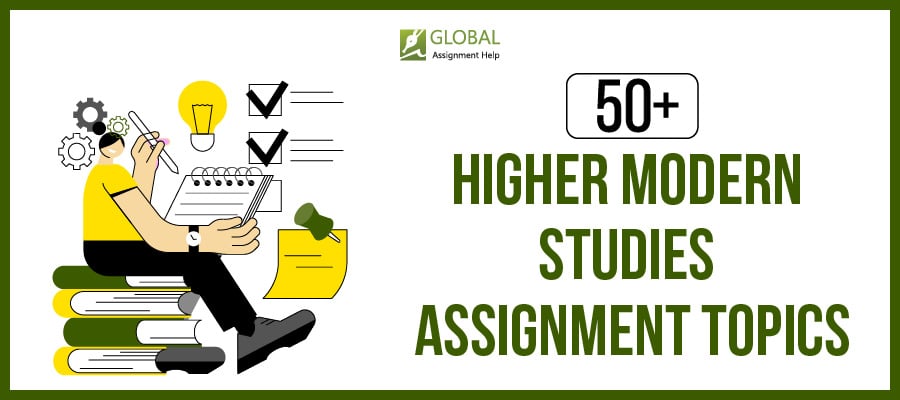 50+ Higher Modern Studies Assignment Topics to Ace Your Paper!
26-09-2023
119
13 minutes