Writing a Business Development Assignment? 5 Skills You Need to Develop
Students looking forward to make a career in business development or the ones pursuing courses like MBA, business management and such have one thing in common. It is the assignment that they are assigned on the topic- business development. This may sound very simple, but when we get into the details of the same, it gets a bit complicated. Sometimes even the best students face difficulties in this subject and turn to experts of Global Assignment Help for assistance in their work. So, if you also count yourself in, then we can help you with it. Before we let you know-how let's take an insight into business development.
What Is Business Development and Its Importance?
Business development is nothing but the practices that include performing actions, taking steps to develop the organization and bring growth opportunities for the company. This includes creating long term values of the organization with customers, markets and relations. This includes any activity no matter how simple, complex, small or big it is but contributes to the development of the organization. But, this requires intense and properly structured planning for the same.
The main purpose of a business developer or the person who performs business development is:
To come up with a growth plan for the company.
To execute the growth plan effectively.
To collaborate with all teams in the development stage.
To assess opportunities in the target market.
To collect information related to competitors to the company.
To initiate leads for potential sales in the company.
To follow up on the sales activity of the company.
So, if you are looking up to become a business developer in the future, then these would be your job roles. For now, we shall move to the next section and look into the different stages of business development.
What Are the Different Stages of Business Development?
Now, we shall look into the five main stages of business development. These are the common stages every company has to go through.
1. Development Stage
When it is finally decided that you need to begin with the development phase, then it is better you start with a plan. When you have a plan all set, you know your targets, the path to be followed and the results to be derived and you work accordingly. This, in turn, keeps you focused and increases the chances of success.
2. Start-Up Stage
The second is the start-up stage, which is quite risky or stressful. This is because, at times, things go over the expected budget and may land you in trouble. It includes challenges such as raising investments, hiring staff, managing expectations, establishing a market presence, managing accounts and more.
3. Growth Stage
The third one is the actual growth stage. This is where you have begun generating revenues and growing client base, and all together, you open up to the competition world. Now, this is the time one should focus on adapting better strategies and improving the business model. This, in turn, will increase the efficiency of the company.
4. Expansion Stage
The next stage is of the expansion where you increase distribution channels, and try to go for a bigger market. Now, again this is not an easy task, and you are needed to face more challenges, such as an increase in the market competition, approach for acquiring more competitors, adding in more stocks, etc.
5. Maturity Stage
This is the final stage of the business development process. Here, you reach a point where you rely on financial source to help overcome challenges for better results in the business. When you are finally in this stage, you need to look into some points so as not to get stagnant or stuck. They include analyzing the business maintenance and negative cash-flow, expansion of the business and if needed, an exit strategy.
These are the five main stages of business development that every organization follows. Now, the main thing here is the skills required to do so. We shall look into them in the following section. You can also include the job role or the skills required for this in your business development assignmentand easily impress your professor.
What Are the Skills Required for Writing Business Development Assignment?
May it be about writing an assignment on this topic, or managing the whole organization, you need to possess some skills which we shall look into now. If you are also writing an assignment on this, you need to know about the topic and understand the assignment from the perspective of the business developer. This can be possible in a better way if you have the same skills. Now, let us look into those skills.
1. Analytical skills
These skills help you analyze the problem in the topic and efficiently come up with a better solution for the same.
2. Business writing skills
These skills are needed to write efficiently any business-related work and documents.
3. Collaboration skills
Collaboration skills help in easily collaborating with your peers related to your assignment. This makes the process happen in a simple and smooth manner.
4. Communication skills
Communication skills are important to easily transfer and interchange information with your friends and professors on your assignment topic.
5. Listening skills
These are again important skills to know what others have to say about the topic. It also helps in understanding the subject when it is taught in the class.
These are some skills students should possess to write a perfect business development assignment. Some skills that will help you at the business level are:
1. Leadership skills
2. Negotiating skills
3. Organizational skills
4. Problem-solving skills
5. Strategy making skills
6. Technical skills
7. Interpersonal skills
Now, its time to know how to improve these skills for performing better at work and in your academics. But, in case, you are not into this subject and need an expert's assistance, then seek business development assignment help from us.
How to Improve the Skills Required for Writing Business Development Assignment?
As we know the skills that are required for business development, let us take a look at how to inculcate these skills in the case if one lacks any of them. So, follow the below steps to practice and inculcate these skills in you.
1. Know Why
Know the purpose of why you want to develop a particular skill. When you have a particular reason why you want to learn something, you can find the motivation to do the same. This is not it; you have a fixed aim to work for.
2. Get a Mentor
If you are not very good at commitments or want to get better help and guidance on something you are doing, then get a good mentor who not only teaches or guides you but also at the same time encourages and motivates you.
3. Set Realistic Goals
When you set realistic goals for something, you know that they are achievable. So, you push yourself to work better and achieve them by giving your best. This helps in keeping you motivated and avoiding making excuses.
So, by following these three steps, you can learn any skills. Remember that practice is the key to success. So, keep practicing more on your skills for better results. These skills should help you in drafting a perfect business development assignment. But, if you are struggling with it, learn how to balance college assignments and life from experts. However, if you are looking for professional assistance on the same, then turn to the next section.
Who Can Provide the Best Assistance with Writing Business Development Assignment?
After knowing all this, if the process seems complex, or you are afraid of this, then seek help from experts. Wondering whom to go for? Put a halt to your search here. Global Assignment Help is your one-stop solution.
Yes! Our professional writers, expert researchers, experienced editors, best quality analysts and proofreaders will make sure to deliver your document on time. This is not it; your document will be unique, flawless and plagiarism-free. This is not what we say; this is something over thousands of students from across the globe say. Still not satisfied? Our freebies, 24*7 customer help service, unlimited free revisions and hassle-free money-back guarantee prove our dedication, sincerity and loyalty towards our work and customers. So, what are you waiting for? Contact us now!
You can like this Blog: Here's the Secret to Becoming a "˜Go-To Person' for Everyone
Lowest price
USD 7.13
Get A+ Within Your Budget!
24/7 Customer Support
100% Customer Satisfaction
No Privacy Infringement
Quick Services
Subject Experts
Innovative Documents
FREE Tools
To Make Your Work Original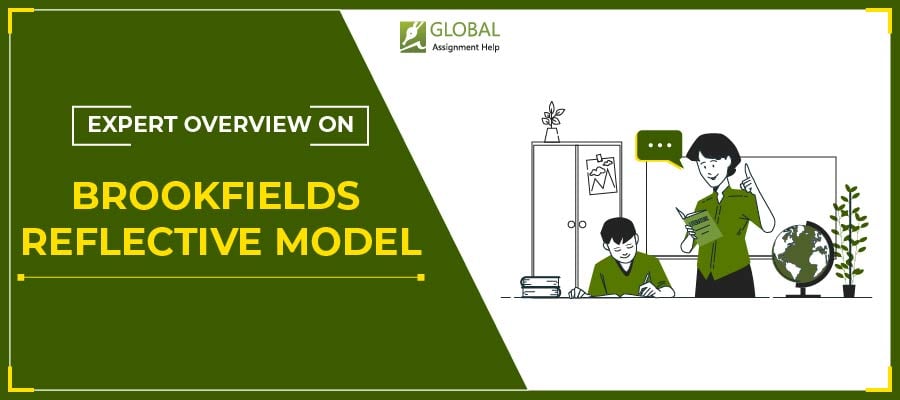 A Expert Guide to Brookfield Reflective Model and Its Four Lenses
27-09-2023
123
13 minutes