5 Incredible Apps that Will Make You Smarter
Nowadays, smartphone applications are not just a source of entertainment but are a part of technology that has been making inroads into education. These Apps will help you to assess your intelligence, and develop healthy living habits that will expand your brainpower. The experts providing assignment help have listed down a few brain-boosting Apps that will make you smart and allow you to gain new experiences and perspectives.
Owl
Owl delivers one fact every day. Just set a schedule when you want to receive your dose of amazing fact and choose whether you want to be notified of it or not. It will help you to improve your intelligence, and then you can easily impress your friends or colleagues with your knowledge.
Khan Academy
Khan Academy provides thousands of videos and articles on a huge array of subjects, from algebra and microeconomics to art history and music notation. Learning new skills may actually rewire your mind, boost memory and enhance your verbal intelligence.
TED
With this App, you can build custom playlists, explore talks and lectures, and download videos to watch offline whenever you have time. Topics revolve around education, medicine, business, technology, religion, business and music. It gives users access to the entire TED video library with subtitles in over 90 languages.
Duolingo
Duolingo app is an excellent way to get acquainted with a new language. It uses pictures, speech, and writing in short and easy lessons. Learn vocabulary and phrases throughout the course to improve your knowledge of language. If you are planning to learn German, Spanish, Italian, French, Portuguese, Irish, Danish, Swedish, Dutch, or English, this mobile application is the best way to do that.
HowStuffWorks
How does skywriting work? Who discovered the Internet? Learn the answer to such questions with HowStuffWorks App as there are plenty of latest articles, videos, podcasts, quizzes and much more. Get daily alerts on important and popular content and newly published shows.
These are the few Apps that you can try to make yourself more smarter, enhance your brainpower and improve your emotional intelligence. It is remarkable how mobile application can transform education into something more engaging than you could ever imagine.
If you found this blog informative, then don't forget to share it with your loved ones.
Global Assignment Help has been providing assignment writing services to the students based in the US, UK, UAE, Australia, Malaysia and New Zealand. We have been able to bridge the gap between our experts and scholars by bringing them closer through an online portal where they can discuss their problems related to the academic paper writing without any inhibitions. If you need help in completing your assignments, dissertations, coursework, homework, essays and presentations, then you can contact our team today and get assured of excellent grades. Avail our services now and get exciting offers!
Lowest price
USD 7.13
Get A+ Within Your Budget!
24/7 Customer Support
100% Customer Satisfaction
No Privacy Infringement
Quick Services
Subject Experts
Innovative Documents
FREE Tools
To Make Your Work Original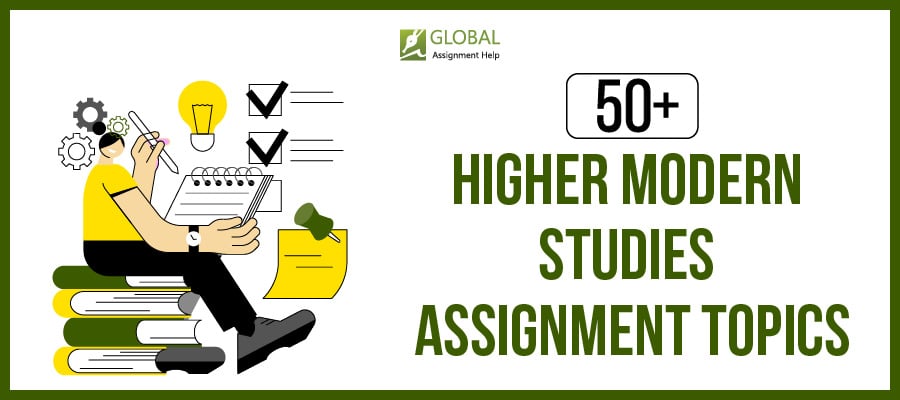 50+ Higher Modern Studies Assignment Topics to Ace Your Paper!