Tips to Have an Amazing New Year's Eve
You know that you are festive enough to get three parties rolling at a time, yet there are occasions when your enthusiasm fails to match the current trend of celebration. We keep adding new customs and flavours to the festivals we celebrated for years. Sometime in the history, we figured out that people prefer to bring changes to their lives every new year. Therefore, we called it the New Year resolution, and now everyone has one. If you think that this phenomenon has become the lost cause since most of them go unfulfilled, and still want to throw a party, then you are a real party monger. However, here are a few things you can do to feel festive and bring life to your new year celebrations:
1. Don't Say "I'll Try"
You let a lot of people down when you term your hard work as a trial, for people expect you to be a doer. You may yourself feel non-motivated if your motto is just to try. What you can do is dissect a bigger task into smaller tasks and strategise if you can complete them or not. If you can't do what's required of you, just say "No", rather than trying a hundred times only to fail. It also helps you increase your credibility as a person when you have the guts to admit your faults and work upon them.
Note: Before you say a "No," strategise the plan thoroughly. You don't want to turn down your friends at every request they make.
2. Pick your favourite dress and wear it
Are there any new clothes you just bought? Wear them on the New Year celebrations, for it is an occasion that the entire world will be enjoying. If you haven't bought any new apparel yet, wear the old ones; the clothes that you love the most.
Be it a house party, a pub, or a public carnival; everyone prefers wearing their best skin to the occasion. You can also dress yourself according to the party's theme if you are attending one. Ask your friends if they want to be recognized as a group with a color code, and rock the party.
You may also like: Five Most Amazing AgTech Startups This Year
3. Write down who you are
The new year is coming; you may want to change a few things about yourself. The process starts with knowing every fault and quality of oneself. You can only dedicate some free time to figure out the things that are being gone wrong with your life. Take a pencil and paper, and make a complete list out of things that make you who you are. On the one hand, you'll extract the characteristics that make you a human, and on the other hand, you'll get your New Year resolutions for next four to five years or so.
When you are determined enough to work on them, none of the resolutions are unachievable. Talk about cooking, bodybuilding, getting a job, starting up a company, or learning martial arts, none of them are impossible to achieve within an year.
Remember that the resolutions you make are meant to be long time convictions. Suppose, you decide to be a studious fellow in the next year, to do it you need to give enough time to each subject. They too will take their own time to start being useful, so don't give up on studying if the results don't show too fast. We wish everyone to be happy, beginning from 2018. And, if you mess something up, don't be too hard on yourself, and others too.
If in this festive season, like so many others, you don't get enough time to complete your assignments, contact Global Assignment Help. Our team of professional assignment help providers will complete your tasks with genuine write-ups, and deliver them to you before the deadline. We have so far helped many students with high-quality assignment writing services, and that too at affordable prices.
Lowest price
USD 7.13
Get A+ Within Your Budget!
24/7 Customer Support
100% Customer Satisfaction
No Privacy Infringement
Quick Services
Subject Experts
Innovative Documents
FREE Tools
To Make Your Work Original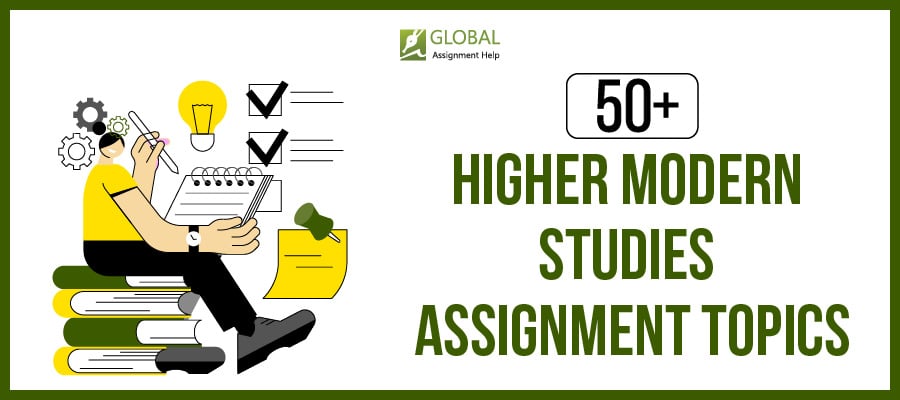 50+ Higher Modern Studies Assignment Topics to Ace Your Paper!
26-09-2023
139
13 minutes