Brief :
Organization Selected :
river island
INTRODUCTION
Ambidexterity is the concept of equally adapting both the sides of situation like state of writing with both the hands that is left and right. The state is becoming popular for managing business and organisational changes with the help of ambidextrous approach. The method refers to firm's ability for efficient management with regard to market fluctuations. The approach is effective for business management as it assists the enterprise in coping with changing demand of tomorrow. It is the state where the individual is able to address two situations at one time.
Operations, leadership, finance and information system are the core aspect of an entity which can be regulated by Organizational ambidexterity approach. The assessment is based on analysing concept of management with the help of ambidexterity which can be hindrance according to practical situation of business but is effective for adapting frequent changes. To develop critical understanding over ambidextrous organisational system the study will outline different example on the basis of two business that is river island, which is women fashion retailer and home office UK which are planning to work differently in order to meet innovative needs of society. The report will outline contextual and structural mechanism of ambidexterity to enable stability in leadership and management.
Aim
"To determine the role of ambidexterity approach with regard to operations, information system, finance and leadership at time of organisational change"
Objective
To evaluate concept of Organizational ambidexterity approach
To assess the need of incorporating different theories and approaches when managing ambidexterity.
ANALYSIS
Organisation leadership and management are two critical are which needs to be managed hand in hand in or der to deal with organisation change. There are numerous situations where enterprise fails to coordinate with external environment due to internal fluctuations and vice versa. In accordance with this situation, it is important for the business to focus on both areas which is done with the help of Organizational ambidexterity. According to D'Souza, Sigdyal and Struckell, 2017, it has been analysed that ambidexterity approach helps the firm in managing two different situation at one time which is beneficial managing tactics to attain competitive advantage. The major concern of an enterprise to manage innovation in products and services in order to satisfy need and wants of customers. However, the rapid fluctuation in internal and external business environment are leading to increasing concern where this tactical method can assist the entity in managing competitive ad escalating market pressure. Similarly, BlindenbachDriessen and Van den Ende, 2014, outlined the concept of exploitation and exploration which is balanced with the help of Ambidexterity. The concept demonstrated organisational ability to manage existing competencies and new opportunities hand in hand. In accordance with exploitation comprise, execution of efficiency, selection, refinement, implementation and production. Managing exploration elements considering exploration is the best practice which helps the business in coping up new challenges.
Apparently, ambidexterity is an effective organisation approach as it helps the business in managing two situation at same time. It is not considered a practices according management working pattern but then it is a strategy of time management and grabbing future opportunities. Leading and organisational change are two business concepts that helps in increasing operational efficiency of an enterprise. Therefore, it is necessary for leaders to focus on exploitation and exploration in order to gain benefits and cost effectiveness (Pellegrinelli, Murray-Webster and Turner, 2015). For example, River island is a high street store which is focusing on managing new opportunities in order to deal with escalating market pressure. The store has planned to offers its fashion products online in order to grab consumer attention and to boost sales while on the hand motive is to increase competitive advantage by launching its customized women collection. The example denotes ability of fashion retailer to manage two sided organisational change which reflects effectiveness of ambidexterity approach. River island owns 350 outlets across UK and reason behind managing change is to improve shopping experience of people and deal with increasing market changes.
As per the views of Heavey and Simsek, 2017, Ambidexterity is theoretically applicable and practically challenging because in this it is necessary for the firm to balance two different acts that is innovation and efficiency. The author outlined the discussion of exploitation and exploration where according to scholar exploitation of business certainties is of short term benefit whereas exploration related to long term performance and success of an enterprise. Both the concepts are completely different from each but altogether helps in improving operational efficiency and cost effectiveness of business operations. Like, integration of exploitation and exploration is a strategic intent with the motive of emphasizing profit and breakthrough. Customer orientation incorporation of both the terms aim at tight and loose coupling while personal driver integration aims at maintaining discipline and passion in managing and leadership practices.
Figure 1: Cycles of Organisational ambidexterity
(Source: Rucker, 2018)
However, there are two types of ambidexterity that is structural and contextual that have different characteristics, decision making, role and skills as per business environment. For example, if in case River island firm implements the use of structural ambidexterity then the function in an enterprise will be divided into different functional units where decision will be taken on the basis of existing challenges and future opportunities (Papachroni, Heracleous and Paroutis, 2015). Moreover, it offers defined management procedure which aid the entity in balancing operational efficiency and cost effectiveness during change process. Thus, structural ambidexterity is managing by expert of business like leader, operation, production and finance manager.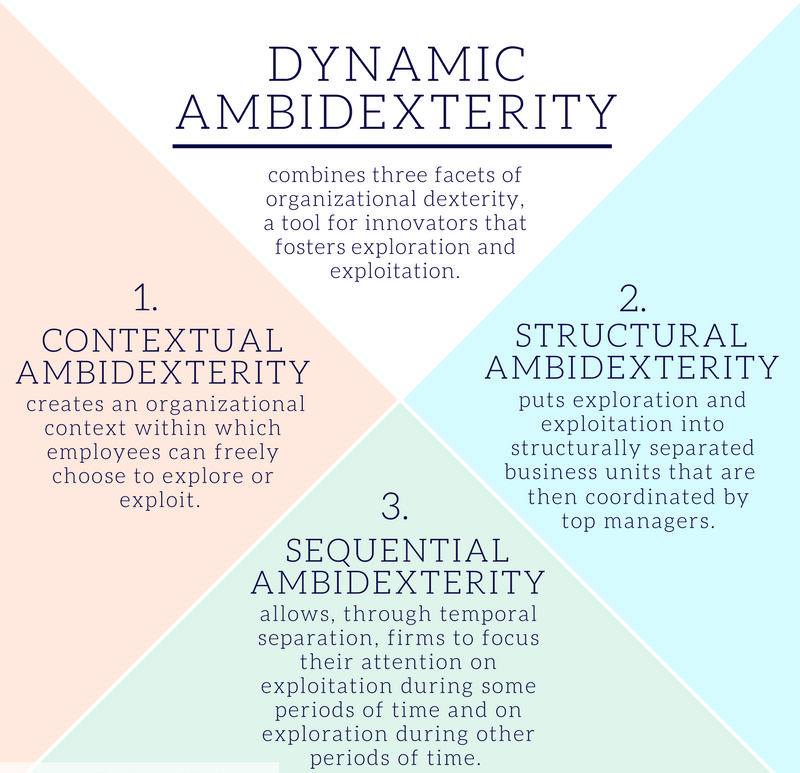 Figure 2: Prospects of ambidexterity
(Source: Tamayo-Torres, Roehrich and Lewis, 2017)
On the other hand, there is contextual ambidexterity which will be implemented by Home Office, UK government department which has planned to do something different. With the helps if this approach, people of home office will divide their work and time on the basis of exploration and exploitation so that no aspect will be neglected. The decision will be taken on the basis of present hierarchy which will helps in maintain reliability and validity of changes. The team will be working according to change and comfort by seeking general views of citizen on safety and security of society in order manage successful change with reference to public.
As per the views of Mihalache and et.al., 2014, it has been evaluated that understanding concept of ambidexterity is successful plan of managing change and innovation in practices. Technological advancement has created the need of thinking and managing two sided change at one time. Leadership of firm is reflected by ability to determine change, exploit operational efficiencies, maintaining cost effectiveness and globalization agility. The scholar outline that enterprise is focused on innovation, improving performance maintaining cost effectiveness to attain competitive advantage but it is necessary for the firm to explore emerging opportunities to stand out in competition and go beyond the curves of success.
As per Dr Robert Duncan who outlined term organisation ambidexterity, it is the designed approach which offers dual structures of innovation. On the basis of this concept innovation and operational improvements are two separate activities which needs to be worked simultaneously. Further, managing two different types of activities, it is necessary of an enterprise to make use of two different style of leadership (Wei, Yi and Guo, 2014). For example, river island women fashion retailer who has planned to make significant change in business will make use of two theories together that is six sigma of managing continuous improvement and to eliminate errors. In accordance with operation management approach the firm will implement use of situational leadership which will help fashion retailer in adjusting different style according to set differentiation. Situation leadership theory is effective while managing organisation ambidexterity because it is focused on four key elements that is coaching, directing, delegating and supporting.
Apparently, it is analysed that there are three paradoxes which relates to ambidextrous organizations that is improving business practices, innovation and customer satisfaction. The aim of managing two types of changes at same time is with the motive of improving cost effectiveness and operational efficiency. Efficient leading and operation function assist the business in regulating safe innovation practices with regard to escalated market pressure. In addition, social orientation theory is also helpful in managing ambidextrous organizations as it helps in determining extent to which employees of firm have negative and positive orientation to specific change and execution. The theory is effective for managing ambidexterity because it clearly defines adaption, relationship and behaviour of people involved in exploitation and exploration. For example, home office of UK which is planning change for safety and security of society will follow ambidexterity approach with the help of social orientation theory. The model will help governmental department in analysing needs of change and adaptability of society as this approach is based on managing wellbeing of public.
In accordance with increasing market pressure, it has been analysed that static models are appropriate at the time of framing ambidexterity. As per Popadić, Černe and Milohnić, 2015, change is a dynamic process which makes modelling difficult. However, the major concern at the time of managing ambidexterity is determining need of people like whether the firm involve one separate team or department in process or there need to be expert from every functional unit of business. In accordance with ambidextrous approach it is important for the organisation to make unique team of experts from every department of business that is finance, operation, products, management and leaders. The individual will be able to determine risk of exploitation and exploration with the help of which innovation plan will be proceeded.
As per O'Reilly III and Tushman, 2004, 35 initiatives on existing business functions are taken with the help of ambidextrous approach where the management found that organisational ambidexterity is superior and helps in maintaining competitive performance. Moreover, structure of ambidextrous business allows cross connection of organisational units to share and connect important information. The study evaluated that with the emergence of cross functional team traditional approach of managing and leading declined rapidly. In this changed managing and leading style project team are formed by management which worked independently with the motive of improving existing products and services with regard to market trends.
The cross departmental communication and functions allows enterprise in making optimum utilisation of resources. Further, the approach promotes coordination and cooperation between different units for analysing need and management of resources. With the help of this process the entities are able to refine operation in order to improve product as per emerging market trends. It promotes distinctive structure and process for coordination exploitation and exploration (Nieto-Rodriguez, 2014). For example, River island is implementing ambidextrous organisation approach then the structure will comprise one general manager who will be leading two team which will be based on existing and emerging business. In this section every business type will comprise experts like, manufacturing, sales, research and development, finance, IT and one leader. Hence, from the overall discussion over implementing ambidexterity in organisation it can be said that the approach helps the business in dealing with escalating market pressure to attain competitive advantage.
CONCLUSION
The report summarized about state of managing two different situation at one time which is known as ambidexterity approach. It denotes organisational ability to work on two different business situations. The discussion stated about emerging marketing changes which needs to managed with existing business product and services. It demonstrated the importance and need o implanting ambidextrous organisation approach to deal with escalating pressure of market. Further, it reflected example of two business who have planned to change their products and services differently.
The report outlined two basic aspect of managing ambidexterity in an enterprise that is exploitation and exploration with the help of the organisation will be able to deal with merging trends and existing change in business simultaneously. It reflected about prospect of ambidextrous business that is dynamic, contextual, structural, etc. The horizons derive ability of firm to manage two different task at same time. Moreover, it reflected example of using two different theories to deal with changes that is six sigma and situational leadership to improve performance of business and make best use of resources.
The assessment concluded by deriving that ambidextrous management of entity offers unique management structure which promotes cross departmental communication and coordination among functional units of an enterprise. Thus, it can be said that with the help of this approach the company is able to adapt modest innovation and dramatic breakthrough innovation together, which helps in dealing with changing market trends and attaining competitive advantage. Thus, the report concluded by outlining that ambidexterity helps in refining operation to develop product as per evolving market trends.
RECOMMENDATION
It is essential for the organisation to work according to different business scenarios that I existing and emerging for which it is important for the firms make use of ambidextrous approach. This styles helps enterprise in leading and managing change with regard to information system, finance, leadership and operations. In accordance with analysis, it can be recommended that companies should implement the use of structural ambidexterity where the management should form unique and separate business unit which will be coordinated and by top managers. The implementation of change in entire structure will take approximately 3.5 months, because after uniting workers in one team the employees will be provided training to work according to ambidextrous management. The training, implementation and change in whole process will cost 30 pounds.
Resources which will be required for changing traditional approach into ambidextrous approach will be expert manpower, technological tools and funds. Top management and general manager of two team that is emerging and existing will be responsible for entire change and administration. The entire change will be beneficial for the business because it promotes innovation in existing products and services which reduces cost function and encourages optimum utilisation of resources. Moreover, the change is for advantageous because coping up with opportunities will help enterprise in attaining competitive advantage.
REFERENCES
Blindenbach‐Driessen, F. and Van den Ende, J., 2014. The locus of innovation: The effect of a separate innovation unit on exploration, exploitation, and ambidexterity in manufacturing and service firms. Journal of Product Innovation Management. 31(5). pp.1089-1105.

D'Souza, D.E., Sigdyal, P. and Struckell, E., 2017. Relative ambidexterity: a measure and a versatile framework. Academy of Management Perspectives. 31(2). pp.124-136.

Heavey, C. and Simsek, Z., 2017. Distributed cognition in top management teams and organizational ambidexterity: The influence of transactive memory systems. Journal of Management. 43(3). pp.919-945.

Mihalache, O.R. and et.al., 2014. Top management team shared leadership and organizational ambidexterity: A moderated mediation framework. Strategic Entrepreneurship Journal. 8(2). pp.128-148.

Papachroni, A., Heracleous, L. and Paroutis, S., 2015. Organizational ambidexterity through the lens of paradox theory: Building a novel research agenda. The Journal of Applied Behavioral Science. 51(1). pp.71-93.